Share Alexandra's Experience with MeJeanne Couture
When you receive an email with the subject line: "Your Gown was crazy. successful", right away you think "I must be doing something good :)"
The Challenge with a custom evening gown
When Alexandra requested a dress, she already had something in mind. It was an incredible fusion of a visually appealing form fitting gown with an element of theatricality I had never dared try before. You can imagine that as a fashion designer I felt excited immediately… This was a challenge and an opportunity for me to create a masterpiece with (bear with me) actual feathers!!!
Now with my experience making evening gowns and wedding dresses, making a beautiful outfit on someone's measurements, although not a piece of cake, is always an enjoyable experience. The hard part was to find the exact feather and beads that would not only go with her vision but match with the outfit and its color.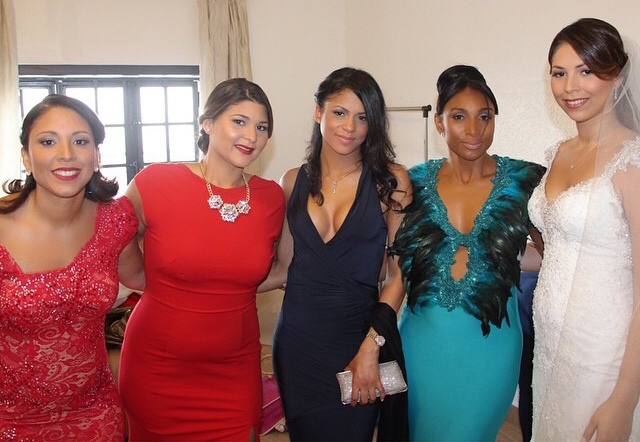 Great Customer
Before I get ahead of myself I must tell you how fun communicating with Alexandra was. Reading her messages, seeing how much she trusted me and also how high her expectations of the dress were kept me excited.
I really appreciated that she took the matter of measurements seriously. What makes a lady look at the same time statuesque with her curves enhanced or celebrated by her dress is defined by how close a gown come to being a second skin to her.
Alexandra knew that for a custom design evening gown, her measurements had to be correct so she sent me not one but 2 different measurements chart, taken by 2 professionals to make sure they matched.
Alexandra's Custom Evening Gown Delivered
The dress in its first form was delivered on the first week of December. Alexandra tried on her gown for the first time, and we decided to remove the long sleeves the dress was designed with originally.
We also shortened the train out because it was slightly too long. I remember leaving this fitting remembering her smile and replaying her voice saying: "wow Christelle you are very good."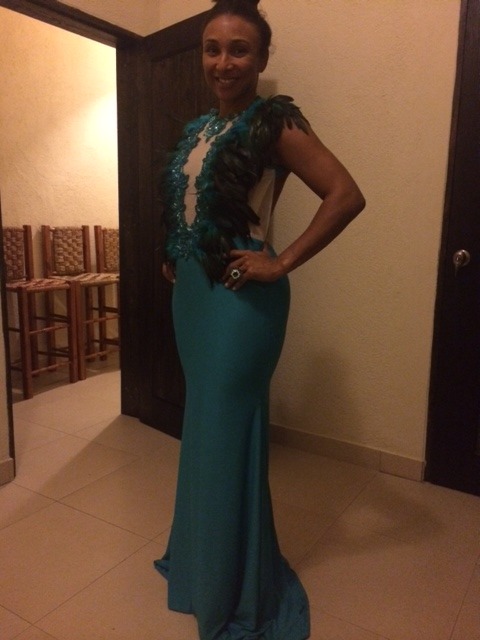 Do you have a dress in mind... We can make it for you
If you need a dress whether it's for your wedding or a special occasion, it very easy to have it made the way you want it and in your personal measurements. Even if you have no idea where to start, drop us a line...Click on the button below.
Tell us about the dress you want
A Mistake Leads to a Stunning Custom Evening Gown
The Dress in its first form had a thin layer of sheer joining the front giving a peek a boo effect. This layer of sheer was just not there for decoration it held the sexy front together. When the sheer was cut by experimentation, the top became loose, loosing that form fitting, curve envelope quality of the dress.
You can imagine that delivering a great dress, seeing the joy of my customer, and then later receiving this email with the subject line: "problems" is such a nightmare. The advantage of making the dress myself,I knew how I could approach that problem: Let's fix it by going all out…SEXY It was a minor one after all.
When I delivered the dress the second time around (after problem was solved) her shouting its perfect brought me so much joy. Once again I can harvest the rewarding accomplishment that I brought to her.After she wore the dress to her wedding, I received an email from her, I expected a big thank you but I must say that I'm still surprised by the subject line: "My gown was crazy successful." Wow Alexandra even when you're complimenting me you still keep me on my toes. I can honestly tell you I enjoy and love how I can be a part of someone's special day.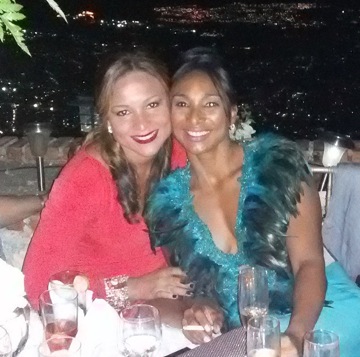 SPECIAL THANKS
Alexandra, thank you for trusting my expertise and choosing MeJeanne Couture to make your beautiful custom evening gown. Working with you was an absolute pleasure. Anything from your energy, your humor and your ambitious ideas were a delight.
Special thanks to Quitterie Elie The Make Up Artist who made her look even more radiant with the fabulous makeup. Brides with her sister including maid of honor in emerald my client.
What do you think? We'd love to hear your thoughts and read your comments.