Each Custom Wedding Dress is Special to Me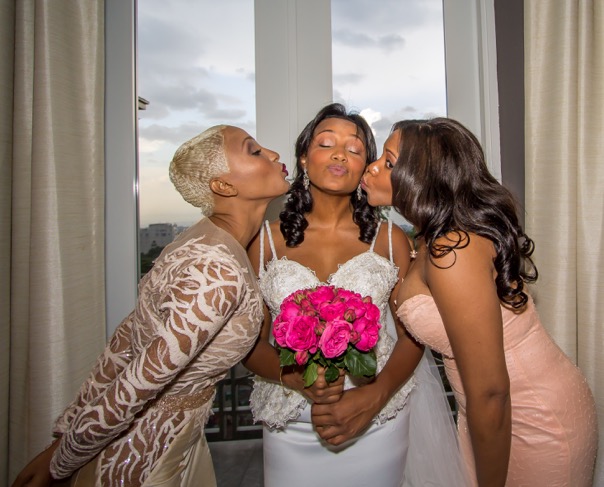 Each wedding gown I design is special to me. The fact that the bride hands over her ideas and trust you to not only implement but to transform her into the queen she is inside, is humbling experience to me. The designing process must go hand in hand with the customer's vision and my goal is to deliver a unique dress that matches the customer's vision and personality. This is why I pour my heart and soul into the sketching and making the gown.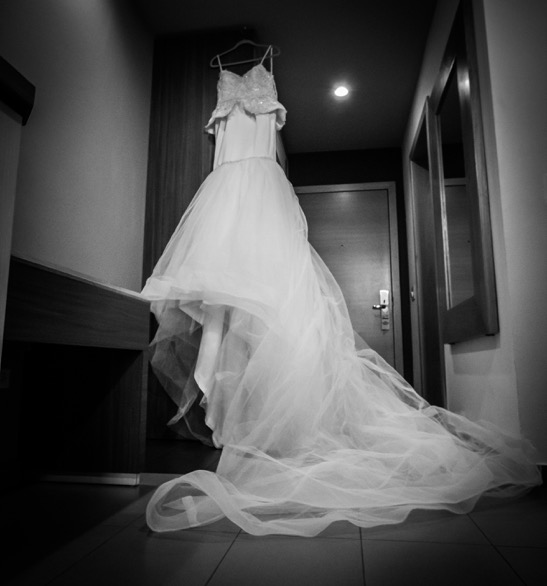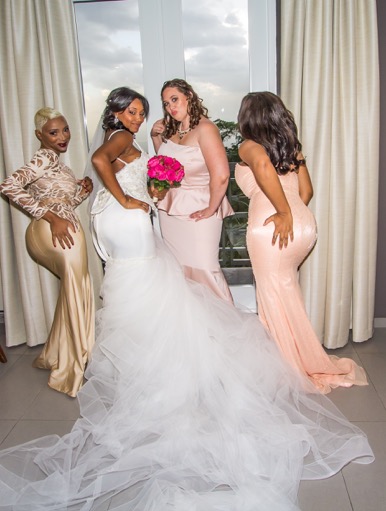 My first MeJeanne Couture Bridal Customer Story for 2016 relates to a dear friend. It also relates to the bridal gown I made for her special day. Doris Michel Laplante has earned an importance place in MeJeanne Couture and in my heart as one of the few who witness the baby steps MeJeanne Couture took some 8 years ago. The fact that she requested me to make her wedding dress was truly a blessing and a testimony of how far we've grown over the years.
On top of it, as her hopeless romantic friend, how could I not be excited about the engagement? We had talked about it and in fact we a conversation about this divine moment a month before it happened. No wonder why she calls me her Danielle Steele ☺

Doris and I became friends after she modeled at my first collection fashion show in December of 2008. And ever since, her counsel, constructive criticism and respect challenging of some of my decisions have made her someone I truly value. I always knew that even if she didn't ask to make her wedding dress, I would have still made her a second wedding gown. As The Weeknd prominently says it: "She earned it."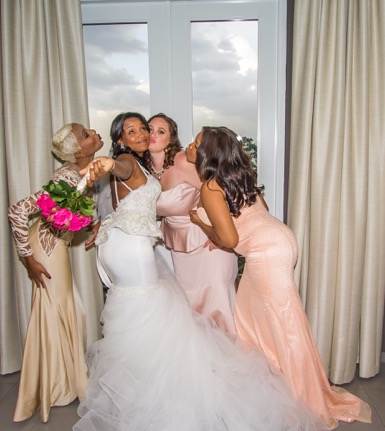 Challenges When Making the Perfect Custom Wedding Dress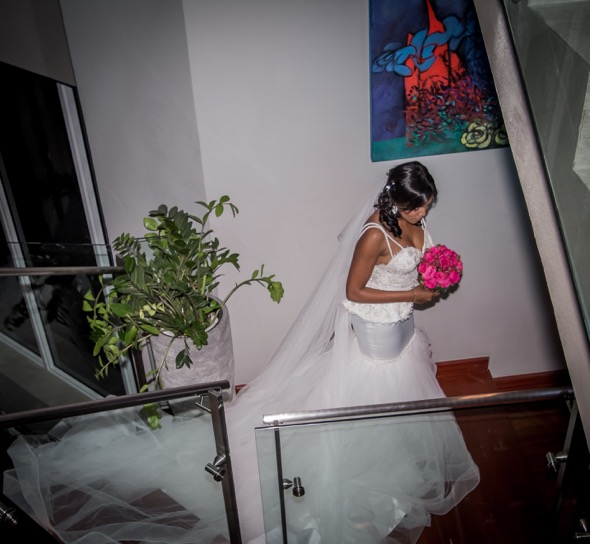 While making this dress, I encountered situations I had never faced before. After we agreed on an original design, we began the search for the perfect lace. Since Doris wanted to hide her waist area, we decided to go with a Peplum. I made her a first sample then we had our first fitting.
During our fitting, we realized that the peplum needed to be cut and sewn more to the side instead of having it centered. Now more work to the mix, we decided to make the peplum in lace as well. That took extra time because almost everything in a custom bridal gown is hand beaded.
Truly the whole process was time consuming. In the end, the fact that I got to see her and spend with her in the process was worth the stress. MeJeanne Couture keeps the promises made.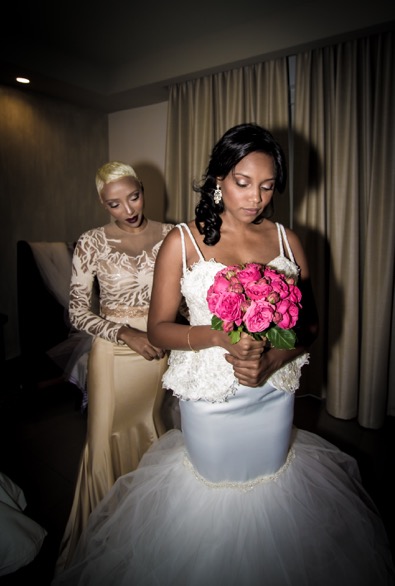 Last Minute Choices For Doris's Bridal Gown
In her quest to be in her best physical shape for her wedding, I thought it smarter to build to add a stylish corset to the ensemble. Lastly the dress had to be a lace up gown instead of a zipper and button because Doris was bound to be toned and slimmer.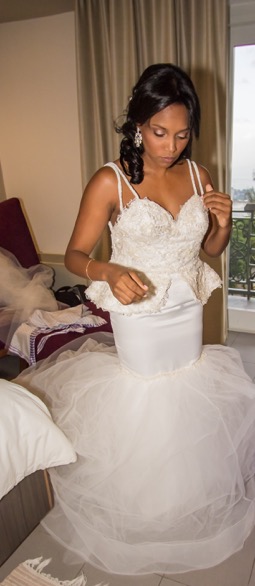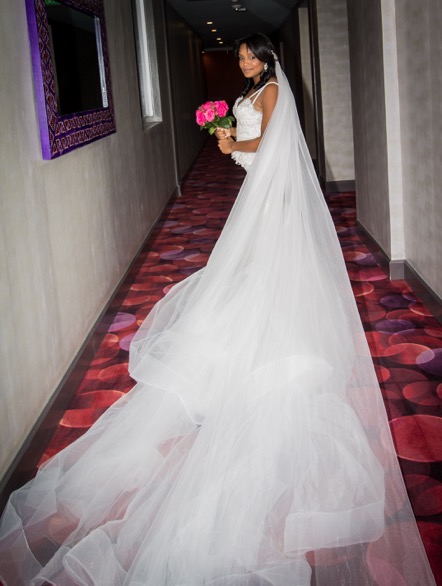 I also incorporated beaded straps to the design which upon Doris' request was tranformed into a elegant double cross strap.Yes I admit it… we opted for a dramatic flare unbeknownst to her by closing the beautiful set with a long royal trane worthy of Westminster Abbey.
The Day Before her wedding i surprised her with a second bridal gown. Doris could tell I was cooking something but off course she never knew what it was. And there it was a simple dress for her to dance in with a feather peplum added it it
---
MeJeanne Couture Custom Wedding Dress For A Friend = Blessing!
Going Down Memory lane thanks to Melissa Jules photo i smile and cant help but think of the hours leading to her wedding how i all of a sudden became the guard for her custom wedding dress and wouldn't let anybody near her , mainly because the skirt is in tulle, long and fragile, but looking back despite the rain (which is a sign of a blessed union) my doll was beautiful and i was happy to just be there to celebrate her day.
Most of my friends now are married with kids. To those who have my heart, if you choose me for your custom bridal gown, rest assured that I will always go the extra mile.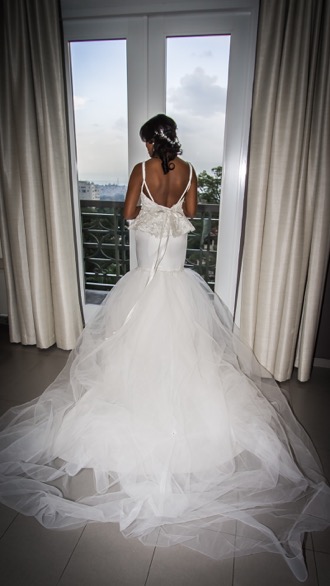 Thank you Dodo for always being there for me and for all of MeJeanne Couture's important dates. Words can't convey how proud I am to have made this unique gown for you. I'm thankful to have shared this moment with you. It's a blessing to partake in the Laplante's couple most important day. 
Muah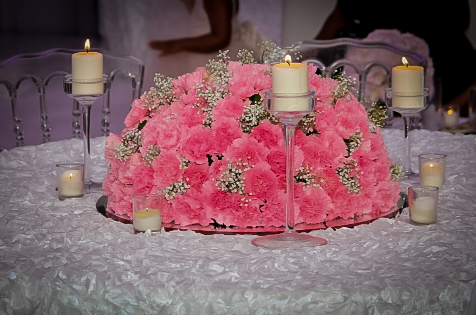 Custom Wedding Dress : Christelle Dominique MeJeanne Couture @mejeannecouture 
Photography: Melissa Jule @life_thru_my_lenses
Makeup and hair for bride: Vanessa Garoute @vg_beauty 
Wedding Decor Any H. Lanauze    @idzamyrCreations
Makeup by Quitterie Leroy Elie @quitterieMua