Making the Right Custom Wedding Dress Design
Finding the right wedding dress often requires finding someone to make the right custom wedding dress. and that's what MeJeanne Couture specializes in!
When Tessa decided to have me make her custom wedding dress and also her bridesmaids' dresses, it was a challenge in many aspects…. I normally require up to 4 months for a custom bridal gown. We didn't have much time ahead. Within 2 months, I had to make a custom wedding dress and also make bridesmaid dresses. For that wedding, I was asked by two of her guests to make their custom evening gowns.
After the wedding date was set, we met to discuss the dress. Tessa wanted to feel comfortable in a bridal gown that accentuated her cleavage. But she didn't want it to be too revealing. Her ideal wedding dress complements her but doesn't sell her as too sexy.  Finally, I had to design the gown to fit right into her Tuscan themed wedding.
That is the reason why more brides are coming to me in for a custom wedding dress instead of buying a dress off the rack.
Designing the Custom Bridal Gown
We finally decided on a v front and back beaded tulle over a sweetheart cut. The custom wedding dress would have a regal tulle bottom. The wedding little by little took the shape of a beautiful  princess skirt with beaded lace applique applied to it.
You shouldn't forget that this was around the time when Jennifer Lopez stole the show with a similar dress by Zuhair Murad gown on the red carpet. No wonder why this style at that time was a much requested one…
Needless to say how excited I was with the design of this custom wedding dress.
Making the Perfect Custom Wedding Dress
The process started right around March 8th. Tessa chose a ethereal tangerine color for her bridesmaids. They opted for a sheer lace bodice and flowy chiffon bottom, with a V back.
My experience in the custom wedding dress business has taught me to expect the possibility of customers gaining a few inches.  I made sure to add 2 inch around the bust and 3 in all others (best decision I made)
To add a dramatic flair, I purchased 6 yards of horsehair to sew in the bottom of the skirt. Working with tulle can be quite hard. Adding layers makes sewing the dress tedious. It was a fashion design workout. You have to be extra cautious! If anything goes wrong,  you will have to start all over.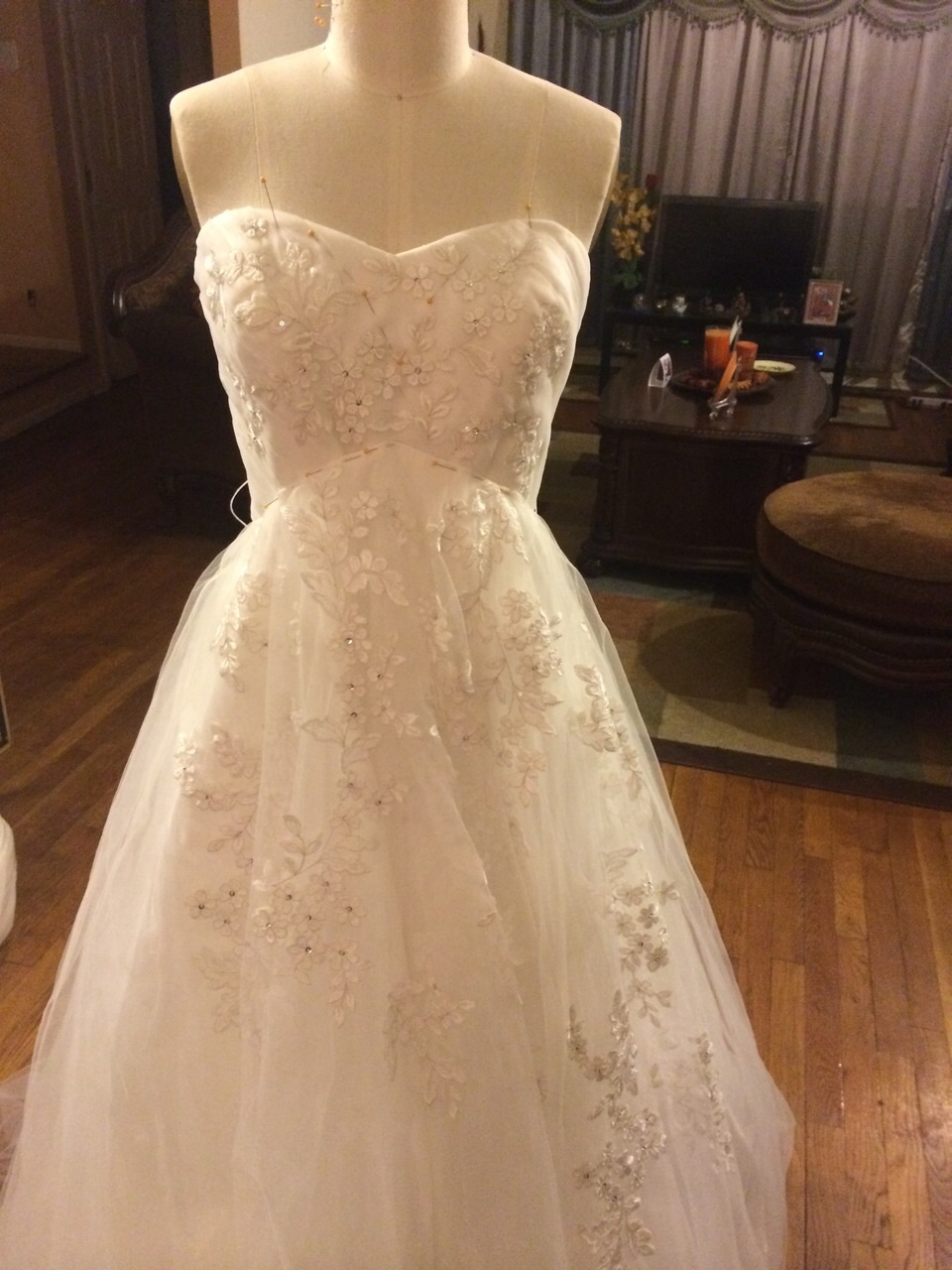 Trying the Custom Wedding Gown for the first time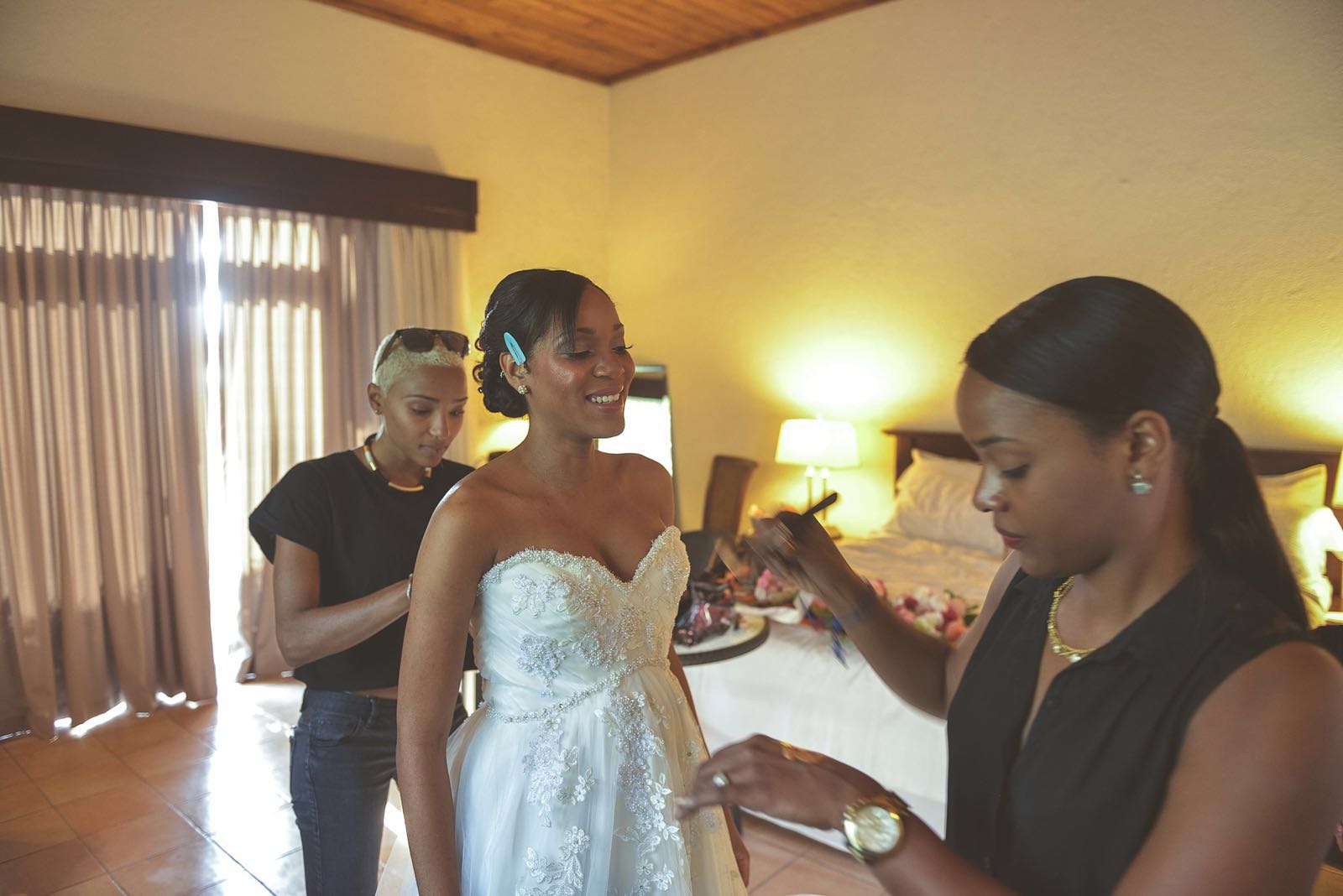 I will never forget how anxious Tessa was to try on her custom wedding dress. We are two weeks away from the big day.  Tessa remains of my most easy going brides. Her trust and poised reassured me.
Originally the plan was to give her a V front and back beaded tulle over a sweetheart neckline. When she came for her fitting, the gown looked so beautiful without the V front. We decided to leave it as is. It made her look more modern and distinguished.
She left the fitting with smile on her face. This is was the moment when I knew that I had a satisfied customer.
The next day I met the bridesmaids. They absolutely loved their dresses. One had gained a few unexpected inches which made it a bit difficult to close her gown. I reassured her that I would open for seam allowance, which somewhat reassured her.
A Happy Bride
5 days before the wedding the bride came to pick up her dress with her mom, uncle, and aunt. I surprised her with a cathedral length veil. I also used some of the lace on her gown to ornate the comb. It was beautiful to see the effect of the train of the gown. When she walked out, she was divine
That night I was proud of my entire team. We made 4 gowns in less than 2 months. Very little adjustments were needed. We still had to finish 2 more custom dresses for 2 wedding guests. Since they were faithful customers of ours, we made sure to surprise them with impeccable work.
If I happen to be nearby the wedding of a customer, I pay her a visit.  I will then give additional touches if needed. Tessa was no exception. How lovely it was to see brides and bridesmaid together in one room. To have my dresses worn by a terrific group of people gave me goosebumps.
THANK YOU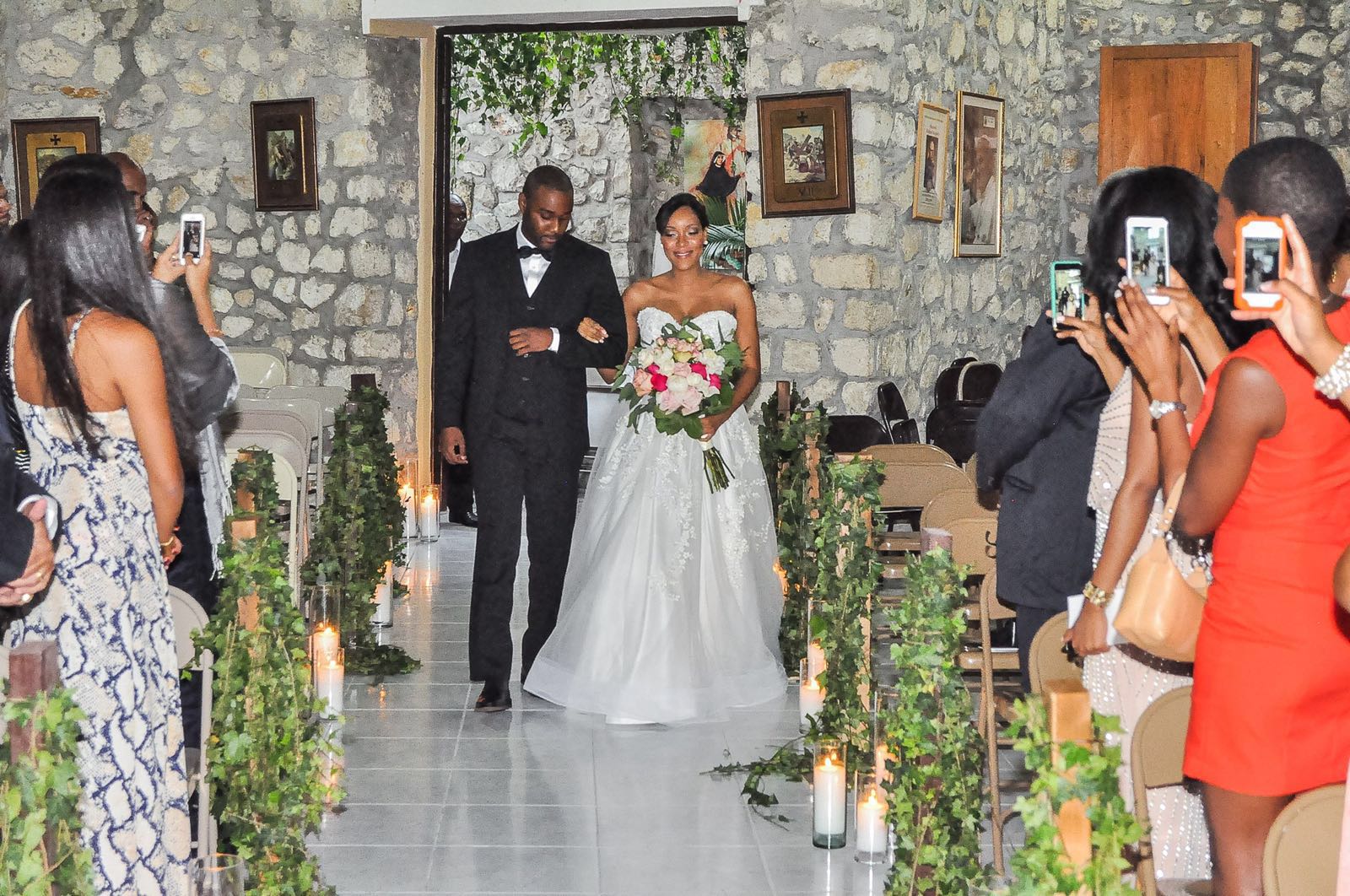 Thank you Tessa
Thank you again Tessa for choosing me to make your bridal gown and also your wedding bridesmaids' dresses. It was a true pleasure for me to be a part of this beautiful day.
I'm taking this opportunity to thank.
Photographer @hugues Robert Marsan
Decor @ Sandrine Boisson Francis
Catering @ Olivier Deverson
Makeup artist for bride @quitterie Elie
Makeup artist for 1 bridesmaid: @ Matti Domingue
Hair : @kristina kernisan
Flower: @floressence
Location @villa therese